Privacy Policy
Information collected from any Lehigh Corporate Web sites
May be used for the purpose of sending promotional information, contest information, product specials, or services to those who have submitted their information and given Lehigh permission to do so through our Opt-In email authorization. If we do send any promotional emails, Lehigh and our affiliates will provide you with an email address or Opt-Out link by which you may inform us that you do not wish to receive such materials in the future. Lehigh will not share any personal information without your permission with any unaffiliated third parties, unless required by law.
We may use the information you provide about yourself in the form of an email to fulfill your requests for our products, programs, and services, or to respond to your inquiries about products, programs or services that you have requested information about or that we believe may be of interest to you.
We sometimes use this information to communicate with you, such as to notify you when you have won one of our contests or when we make changes to our subscriber agreements and/or any programs you may have signed up for.
We also may collect certain non-personally identifiable information when you visit many of our web pages such as the type of browser you are using (for example: Netscape, Internet Explorer), the type of operating system you are using, (for example: Windows 98 or Mac OS) and the domain name of your Internet service provider (for example: America Online, MSN).
We sometimes use the non-personally identifiable information that we collect to improve the design and content of our site and to help us improve your overall Internet experience. For example, we may use this data to tailor your experience at our Web site, showing you content that we think you might be interested in, and displaying content according to your preferences. We also may use this information to analyze site usage.
We may disclose personally identifiable information in response to legal process, for example, in response to a court order or a subpoena. We also may disclose such information in response to a law enforcement agencys request.
Other Web sites
The Lehigh Safety Shoes Web site or our partner sites may contain links to other Web sites outside of the Lehigh Safety Shoe network. Other sites may also reference or link to our Web site. Lehigh is not responsible for the privacy practices or the content of such other sites.
Security
Your privacy is important to us and because of this all credit card transactions made through any Lehigh Web site are protected and guaranteed secure through CCS SSL encryption. Only those Lehigh employees who need access to your information in order to perform their duties are allowed access. Any employee who violates our privacy and/or security policies may be subject to disciplinary action, including possible termination and civil and/or criminal prosecution.
Your Acceptance of this Policy
By using this Web site, you signify your agreement with our Privacy Policy. If you do not agree to this policy, please do not use our Web site. We reserve the right, at our discretion, to change, modify, add, or remove portions of this policy at any time. Your continued use of our Web site following the posting of changes to these terms means you accept these changes.
COPYRIGHT AND TRADEMARK NOTICE
Copyright 2006 by Lehigh Safety Shoes All Rights Reserved. All materials contained on this Web site are subject to the ownership rights of Lehigh and its suppliers. Lehigh hereby authorizes you to make a single copy of the content herein for your use in researching, evaluating, or ordering Lehigh products. You agree that any copy made must include Lehigh Safety Shoes copyright notice. No other permission is granted to you to print, copy, reproduce, distribute, transmit, upload, download, store, display in public, alter, or modify the content contained on this Web Site.
This Web site also contains trademarks of Lehigh protected under United States and International Trademarks laws. Use of such marks without Lehigh's written permission is strictly prohibited.
---
Promise Plus Warranty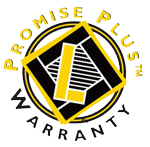 Lehigh stands for protection and quality. That's why our safety shoes and boots are backed by a 12-MONTH warranty - the Promise Plus Warranty. Lehigh Safety Shoes and Boots are warranted for twelve months (365 days) from the date of purchase against defective workmanship and/or materials when used under normal conditions for the purpose intended.
Program Guidelines:
All product returns must be accompanied by the original sales receipt and/or website order number.
All product returns must be taken to the location where the footwear was purchased.
For claims within the first ninety (90) days, the product will be repaired, replaced or a full credit issued based upon the original purchase price toward the purchase of a new pair of Lehigh leather shoes or boots.
For claims made during the second ninety (90) days, a partial credit will be issued based upon the original purchase price and extent of wear toward the purchase of a new pair of Lehigh leather shoes or boots.
Waterproof shoes and boots are covered under the Promise Plus Warranty only if they are indicated as waterproof in our protective footwear catalog.
Credits will not be considered if shoes or boots have been subjected to excessive/unusual wear (cuts, burns, chemical or acid burns), mistreatment or poor fitting if soiled.
The warranty provided herein is in lieu of all other express warranties. Any implied warranties, including any implied warranties of merchantability or fitness for a particular purpose, are limited in duration to 180 days from the date of purchase.All other obligations or liabilities, including liability for incidental and consequential damages, are hereby excluded. Some states do not allow limitations on how long an implied warranty lasts or do not allow the exclusion or limitation of incidental or consequential damages, so the above limitation or exclusion may not apply to you.This warranty gives you specific legal rights, and you may also have other rights which vary from state to state.
---
If you cannot find what you are looking for, why not let our trained staff recommend something?
Our Customer Service Representatives are available now to help. Email.